Kill Climate Deniers is a cross-platform project that started off as something clear and obvious and self-contained – a playscript – and has now splintered into a bunch of different forms on a bunch of different platforms.
What was, to begin with, an easy work to talk about and understand, has now become a strange, hard-to-define, cross-disciplinary beast.
So what I'd like to do is to explain where Kill Climate Deniers came from and how it came to take on the shape(s) it has today, and maybe that will help articulate what exactly we're about to release in four weeks time.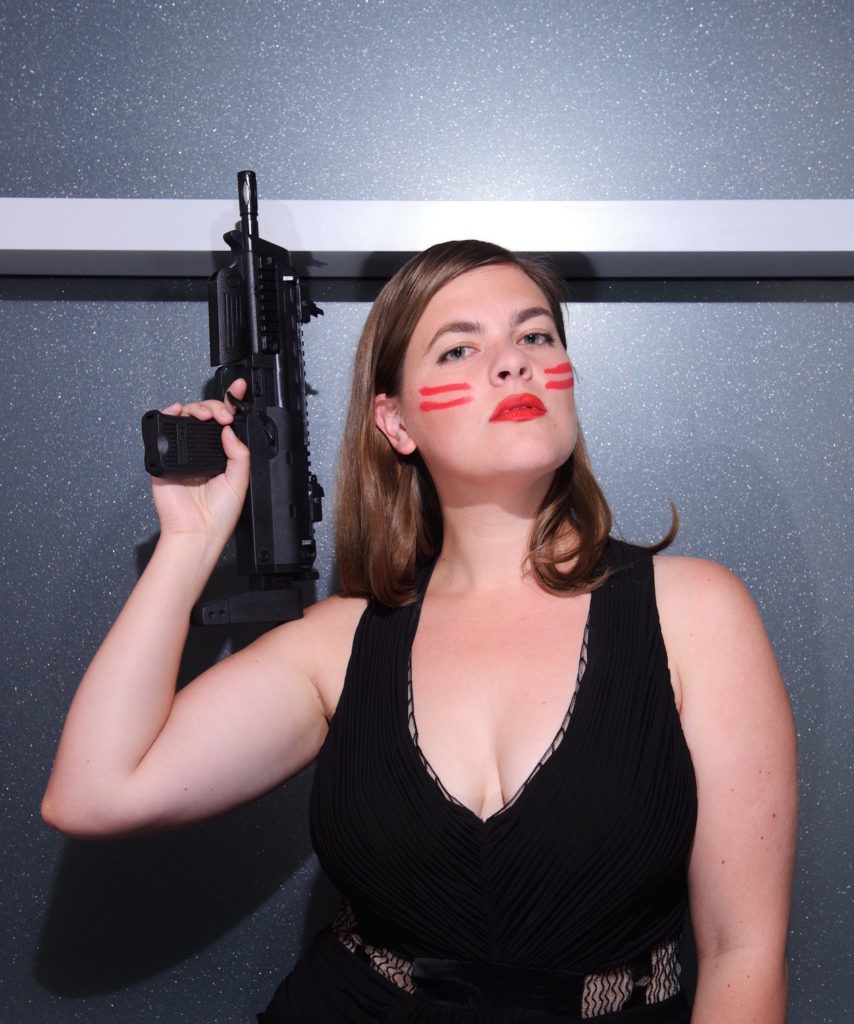 Rachel Roberts in Kill Climate Deniers. Photo by Sarah Walker.
To begin with, Kill Climate Deniers was a playscript – a sprawling, action-packed play depicting the siege of Parliament House by 96 eco-terrorists, and the explosive counter-attack by the Minister for the Environment, who takes on the entire army of terrorists with a gun, a smartphone and a soundtrack of classic House and Techno from the late-80s / early-90s.
The script was developed with director & dramaturge Julian Hobba and Aspen Island Theatre Company, but financial considerations meant that the work just was not feasible to produce at the scale we envisioned. At the same time, there was a lot of interest in the work, from audiences around Australia and overseas. So we began to ask: how could we get the work out to them?
At that point, musician and sound designer Reuben Ingall made the suggestion that we adapt the work into a radio-play. With Aspen Island's support, we brought together a group of actors and recorded the entire play as an audio work. But even as we did, the idea was evolving: from radio play to album.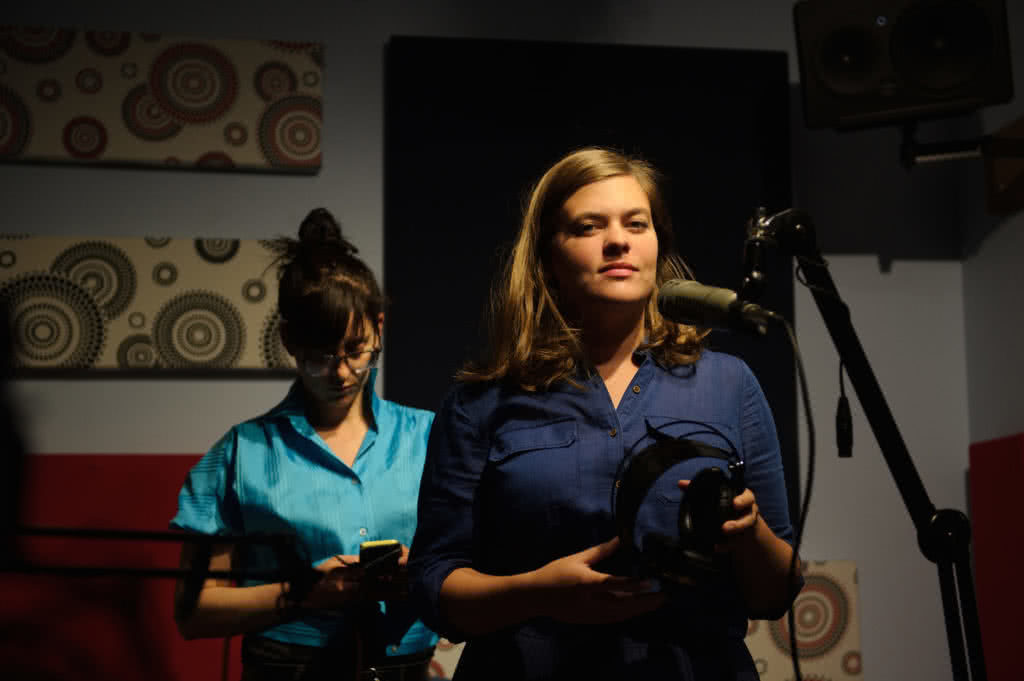 Emma Hall and Rachel Roberts in Kill Climate Deniers. Photo by Sarah Walker.
Rather than simply presenting the script as an audio experience, Reuben composed an entire album of original music, in the style of the soundtrack – four-to-the-floor dancefloor bangers drawing on classic House and Techno. We then sampled dialogue from the play, in the way that early dance music heavily sampled dialogue from films and TV.
The result is an album of original dance music, with dialogue from the playscript threaded through it. It's a radio-play you can dance to, or a club album with a narrative.
The album was picked up for release by iconic Australian electronic music label Clan Analogue, home of artists such as B(if)tek and Deepchild.
The single off the album, Bolted, samples and cuts together quotes from right-wing commentator Andrew Bolt and his followers attacking the project, set to a pounding groove. This track has been remixed by artists including James Atkin (EMF), writer of 1991's #1 hit You're Unbelievable.
The album will go live on Wednesday 31 August, with a very special Listening Party event at Parliament House in Canberra. Participants will be able to download a special mix of the album and walk through Parliament House in a guided audio tour, taking in the music and the story in the location it is set. It's a unique way to experience a fierce work of art AND connect with Australian democracy, all at once.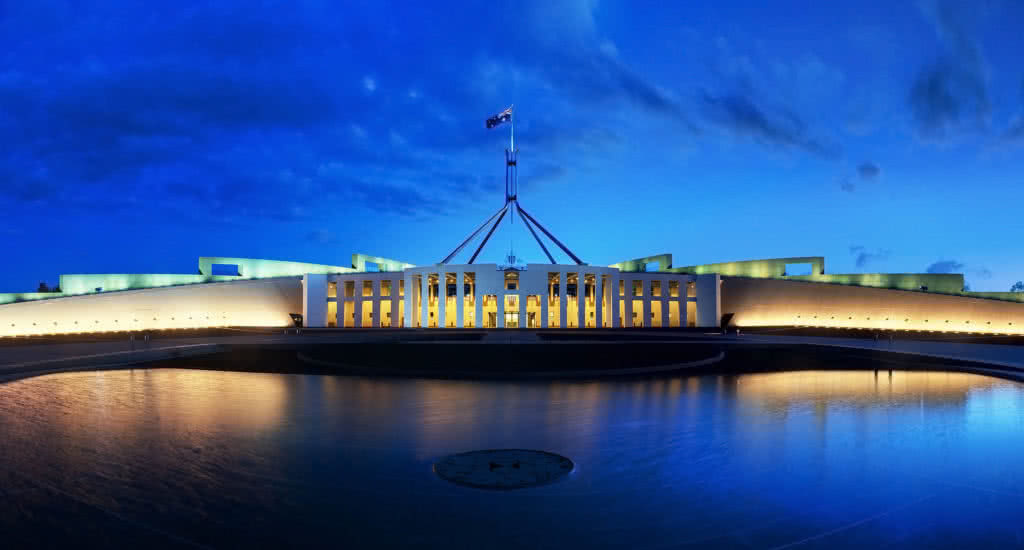 Image by JJ Harrison
Following that, there will be two album launch events in September, at Smiths Alternative in Canberra and Bar 303 in Melbourne, as part of the Melbourne Fringe Festival. These events will see Reuben and I perform together, in a combination of theatre performance and dance party.
The album is one output of the broader Kill Climate Deniers project. The original playscript is also available as an ebook or a printed text, there is a short movie, a feature film script, and a live solo performance version.
At its core, Kill Climate Deniers poses a simple question: What happens if our political institutions are incapable of dealing with a threat on the scale of climate change? Is real political change even possible?
All of the forms in which the work has evolved are finding different ways to ask that question, to pose that challenge.
Is it possible to pose this kind of political / social challenge with an album of House beats? I think so. But I don't know. So, we find out.