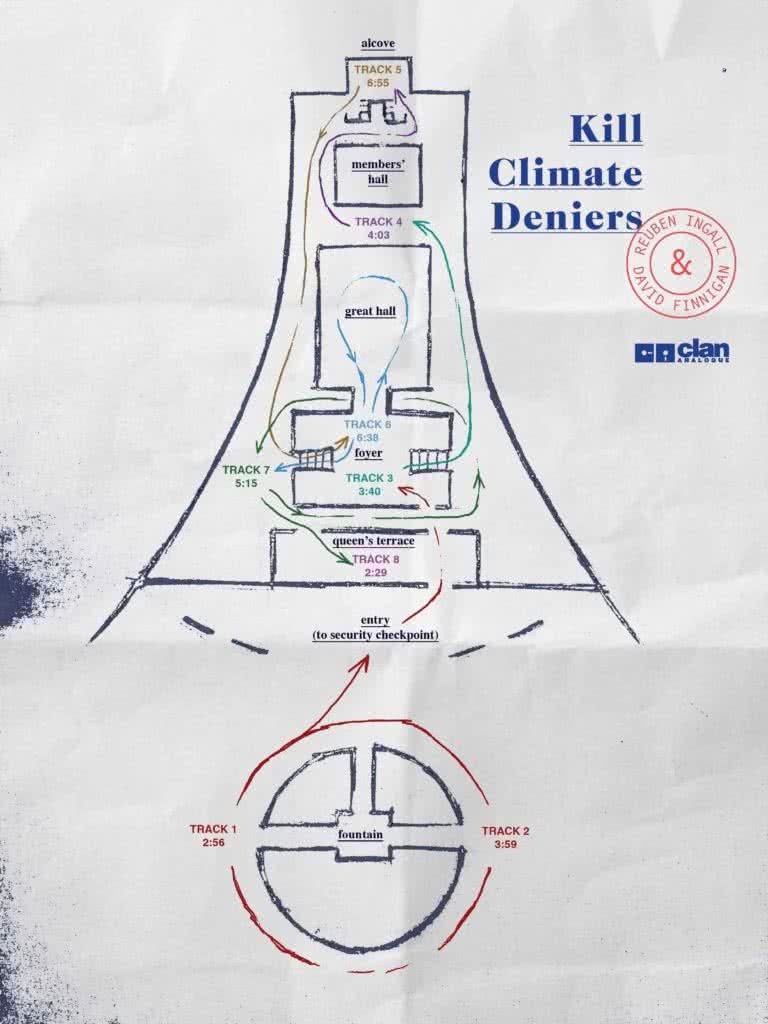 To celebrate the launch of the Kill Climate Deniers album, Clan Analogue and artists Reuben Ingall and David Finnigan have produced a special walking tour version at Parliament House in Canberra.
This is gonna be the best way to experience the Kill Climate Deniers album for the first time.
Here's how you can take part:
Download the special Listening Party version of the album from the Kill Climate Deniers Bandcamp via Clan Analogue. If you don't download it beforehand, you can stream it from Bandcamp or by using the embedded link below. Parliament House has free wifi – but we don't know how capable that wifi is.
Download a copy of the walking tour map at the top of this page, or have it saved on your device.
Grab your music-playing device (your phone, a walkman) and some headphones.
Come to Parliament House in Canberra.
Stand outside the entrance to Parliament House, put your headphones in, press play on track 1, and the rest will take care of itself!
The whole trip will take you around 35 minutes, and then, grab a cup of tea in the Parliament House cafe.
Entry to Parliament House, and the Listening Party itself, is all free.
WHEN: Whenever you like!
WHERE: Parliament House, Parliament Drive, Canberra ACT 2600
NOTE: This experience entails downloading an album and listening to it on headphones while walking through the public areas of APH. Participants are expected to adhere to the standard conditions of entry – see aph.gov.au for more information.
Walking tour map designed by Gillian Schwab.