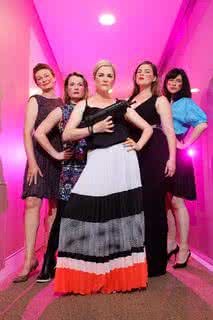 As a classic rock band take the stage in Parliament House's main hall, 96 armed eco-terrorists storm the building and take the entire government hostage, threatening to execute everyone unless Australia ends global warming. Tonight.
Now, the embattled Environment Minister has no choice but to pick up a gun and stand up for her ideals, pushing back against the threat which has engulfed her country - one terrorist at a time.
Kill Climate Deniers is a stage play by David Finnigan and an album of original music by Reuben Ingall.
The ebook playscript is available on this website. The album is available right now through Clan Analogue.
Events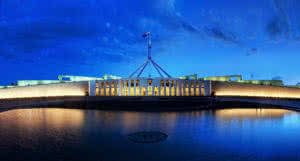 WHEN: 1.00 – 2.00pm Wednesday 31 August WHERE: Parliament House, Canberra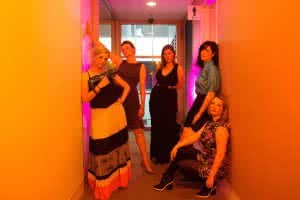 CANBERRA 7.00 – 9.00pm, Wednesday 21 September, Smiths Alternative MELBOURNE 8.00 – 11.00pm Friday 23 September, Bar 303, High Street, Northcote
Project history
Kill Climate Deniers is a multi-platform project across theatre, music and live performance.
In 2014, David was commissioned by Julian Hobba from Canberra's Aspen Island Theatre Company to write a new playscript exploring climate change and Australian politics.
The resulting script, Kill Climate Deniers, was nominated for the 2014 Max Afford National Playwrights Award.
The heated national response to the work when it was announced in 2014 encouraged the creators to make the work available more widely. David's stage play has now evolved into a radio play, an ebook, and an original album by producer Reuben Ingall.
About the artists
David Finnigan is an Australian writer and theatre artist. Working with research scientists in the UK, Australia and Sweden, he creates work exploring climate and systems science. David is a Churchill Fellow and an Australia Council Early Career Fellow.
Reuben Ingall makes hi-tech lo-fi music with an array of home-made software patches, algorithmically mangling his guitar, voice and other sources to create lush soundscapes and lonely drone. His other projects include the radio program Subsequence, mixing and mastering bands, and a mashup-DJ act. He has worked on music for installations, theatre, e-publications, film, and dance.
Credits
Marketing by Gabrielle Affleck
Web design by New Best Friend
Images by Sarah Walker
Album released through Clan Analogue
Short film by Tom and David Finnigan
Strategic consulting by Yolande Norris
Dramaturgy and editing by Julian Hobba
Script illustrations by Gillian Schwab